Today I was hoping that we could take a moment and
send positive vibes, loves, hugs, etc. Tess' way
. She is experiencing one of those
moments in life that are excrutiating to get through
. Tess is the backbone of this blog. She is ALWAYS committed to the blog even when I am not. She has always got my back in any situation and I am hoping we can have hers.
In real life, Tess is the sweetest, kindest, most fun-loving person.
If any of you are lucky enought to know her IRL like I am, I am most certain she has done something extremely kind for you.
She is defininely one of a kind and
I am honored to call her my friend
. I will never be able to repay the things the she has done for me.
So, as a favor to me and to her, please leave some kind comments for her, I know she could use them. We love each and every one of you.
THANKS!
Love,
Trix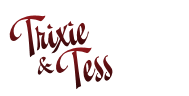 P.S. Tess is the red-head and I am the blonde, and yes, these avi's are exactly what we look like in real life.
P.P.S. Tomorrow we will be announcing the winner of the Mockingjay copy. Don't forget to join the reading gropu and enter to win your own copy!
P.P.P.S. We are at 90 followers! Yay us! Yay you! 10 more and we will give away the iTunes gift cards.