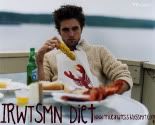 Welcome to the first installment
of

IRWTSMN™

!
If you missed the post from last week explaining what IRWTSMN™ means, then click

HERE

to get caught up!
The idea is that each week we'll post some questions, tips, recipes, and ideas on how to decrease your voluptuousness (i.e. lose weight, inches, etc., etc.)
To make it more fun,
we would like you guys to join in!
Just snag our delicious button up top,
take it over to your blog,
write up a post about the weekly topic,
insert the button into your post,
and come back and tell us about it.
We'll create a list of

IRWTSMN™
blog posts
and link everyone up.
If there is enough response,
we'll have a Mr. Linky
up for future posts
to make linking up easier.
Then, we'll all get around
to each other's blogs,
read what everyone has to say,
and comment!
Simple.
Easy.
Fun.
This weeks topic is: What are your goals?
Goals are so important.
If you just blindly go into an
endeavor without a goal,
you'll never reach the end
or have something to work toward.
Since Trixie is in
THE BIG APPLE
,
I'll answer this one for both of us.
Trix and I are so much alike.
We both want to have Rob's babies.
We think it would be easier if we
could just convince Rob that
"once you go fat, you'll never go back."
We also think that ghetto booties
should be "in".
Have you people never
heard of Sir-Mix-A-Lot?!
He is a wise wise man.
Our struggle with the
devil
scale (same difference)
is one of the things that
brought us closer together...
after Rob and Twilight, of course.
We both have similar
goals right now.
Mainly, we just want to be healthier versions of ourselves. I don't think either of us have unrealistic dreams of being runway ready or anything like that.
We pretty much just want to be comfortable
naked
in our own skin and ward off any health problems that could creep up as we
get old
mature.
You know, as we transition from puma to cougar.
We're making it really easy this week.
Just tell us what your

IRWTSMN™

goals are!
Always consider this question what

IRWTSMN™

?