As women, don't we all know
about the battle with the devil

scale

?
Trix and I spend the majority of our time
either drooling over Rob porn
or talking about our voluptuous figures...
and how we might make them a little less...
er, well...voluptuous.
Way way back, before TNT existed,
we were discussing this exact topic one day via text message...
and there in the realm of texting, a brilliant concept was born.
We've kept this little nugget of motivation and inspiration to
ourselves and only used it in secret,
but today we would like to share this wealth of knowledge with you...
our faithful blog readers.
Truth is that you possibly could have already
happened upon this treasure chest of knowledge
all on your own and you may be using the technique
we're about to share with you...subconsciously.
However, after today,
you'll have a name to go with the knowledge.
We introduce to you TNT's Diet Plan of all diet plans...
IRWTSMN
Now, you might be asking yourselves
"what in the name of Twilight
does IRWTSMN stand for?"
It's simple.
It's staring you right in the face.
You might have even snagged the little button
that has resided on the left sidebar
of our blog since the beginning.
Today, you'll be able to make sense of it all.
I

f Rob

W

ere

T

o

S

ee

M

e

N

aked.
That's our little nugget of motivation
on our journey to be a tad less "voluptuous".
See those skinny biotches
We favor those girls, but not in EVERY way.
We've got a little junk in the trunk.
On days when we need to motivate
each other to put down that
Godiva chocolate bar in the Target checkout line,
or say no
to the double cheeseburger and large fries
that scream our name as we pass McDonald's...
that's the simple line we text...
Then the world stops spinning
and we gain a little control
and everything is back in perspective.
It all comes back to Rob...
ONE day he'll see us naked.
Each week, we'll be doing an IRWTSMN™ post
where we'll discuss our weekly battles and/or triumphs over
the devil...er...I mean scales. (same difference)
We would LOVE for you guys to join us.
You can snag our smokin' hott button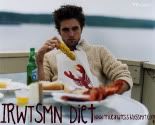 with Rob

staring you in the face

...
and keeping you on your toes.
Even if you are one of the skinny biotches
(who we'd like to pimp slap),
you can still join in.
I'm sure there are those 5 pounds you've been meaning to lose or
those tummy muscles you've been meaning to tone.
Things like this are a lot more fun
If there are enough people interested,
we'll even start a Mr. Linky where everyone
can post and then come over here to link up.