Helloooooo, Happy Friday.
Since, we all agreed that we need to recommit to IRWTSMN
,
I was thinking that it would be good for us to share some ways that we are recommitting...and what better way to start that off than by sharing some healthy recipes...

or just healthy eating.
(Was that like the longest run-on sentence ever? I'm not fixing it. You'll just have to deal.)
You don't have to share a recipe.
I know some of you aren't "cookers". I was thinking

you could share your favorite low-cal recipe, meal ideas, tips on eating out, healthy snack options...anything pertaining to healthy eating.
I'll go first...
One of my favorite healthy things to eat when I'm watching my calories and such, is a yummy delicious
Shrimp and Spinach Salad
.
I just take some frozen shrimp (a cup or so) and put them in a skillet with a tablespoon of EVOO (that's Rachel Ray lingo for extra virgin olive oil) and a tablespoon of minced garlic. I saute all of that together and just pour it over my large bed of fresh spinach...and voila...dinner is served. The EVOO and hot shrimp wilts the spinach a little. It's really really yummy and low-cal, low-fat, and low-carb!
Don't forget...
Just to be on the safe side...
Write a post about Healthy Eating. Use our IRWTSMN button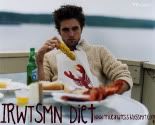 in your blog post. Then, come back here and link up your post in the linky below!
XOXO,